European road deliveries
The value choice, for non-urgent packages
When you're shipping to the Continent, and you can wait an extra day or two, ICR's European Road Services will give you the best value option. Our haulage partners in Mainland Europe will carry your package from Alpine road to Autobahn….it won't be there tomorrow, but it's not going to take all week.
Choose Euro Road or Euro Pack
Euro Road is a flexible option for single or multiple packages. With no size or weight restrictions, it's a highly affordable route for any larger shipment that's bound for the EU States.
Euro Pack is a budget option for single parcels that fit our smaller delivery vehicles.  If any single package exceeds 30kgs (dead or volume weight,) is over 120cm in length, or if the total dimensions are over 330cms in combined length and girth, your shipment will be charged an over-gauge surcharge, or charged as a Euro Road shipment. There may also be an extra day or two in transit time. To help you ensure your shipments meets the Euro Pack criteria, please see the helpful example below
your parcel will:
Weigh up to 30kgs
Measure up to 120cm in length
Total up to 330cm in length and girth combined – see example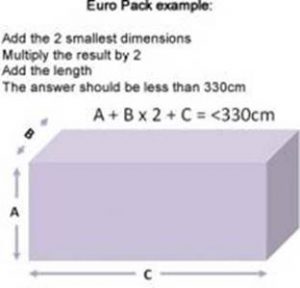 How are volume charges calculated?
Your Euro Road, or Euro Pack, shipments (including pallets) will be charged by either the dead weight, or the volumetric weight, whichever is greater. Your quotes are subject to weight and dimension verification at our depot. Here's an easy way to work out the chargeable weight of your shipment:
Length (cms) x Height (cms) x Width (cms) divided by 4000 = volume weight in Kgs.